La Maison des Lys
Valence sur Baise
Chiambre dhote de charme

Restaurants
Valence sur Baïse
Restaurant Bar Lucy
Brilliant value and very popular with local artisans. A typical lunch includes a tureen of soup, salad and paté, dish of the day (steak and chips, fish and chips, cassoulet, etc), cheeses, a sweet, bread and wine costs an amazing 12.50 euros.
Bar Massalet
The local bar serves a well prepared three-course lunch for just 12.50 euros.
La Guingette
From June to September Bar Lucy opens this bar and tented restaurant on the banks of the River Baïse. Simple Gascon dishes with a choice of menus at 15 and 19 euros.
La Ferme de Flaran
Just on the edge of the village this is a very pleasant Logis de France offering à la carte and menu de terroir dining. The attractive dining room overlooks the terrace and swimming pool.
Castera Verduzan
Restaurant Le Florida
Top class gastronomic cooking, superb wine cellar, comfortable dining room and summer terrace. Highly recommended.
Condom
St Pierre
Beside the cathedral its balconies overlooking the main square. St Pierre offers a range of salads and light meals as well as the regions favorite dishes. Great spot for a light lunch.
Pizzeria Café des Sports
Popular street-side café and bar close to the cathedral offering pizzas and Italian dishes.
Pizzeria L'Origano
Great tasting pizzas from the wood-fired pizza oven, pastas and salads, tables and chairs in the streets – simple and good.
Le Relais de Chasseur
Good value local restaurant close to the market specializing in hearty Gascoigne cuisine.
La Table de Cordeliers
Our favourite restaurant has just been awarded its first Michelin star. The chef Eric Sampietro trained with Raymond Blanc at Le Manoir aux Quatre Saisons. Dine in an old chapel and cloisters in the centre of town or in the height of the summer out on the large terrace. Excellent service, well-planned menus, including vegetarian, terrific 'amuse-bouches' throughout the meal, huge wine list of good value regional wines and the finest Bordeaux and Burgundy wines as well as an impressive listing of Armagnacs. Special occasions and fine dining €50 per person upwards.
Les Trois Lys
A la carte dining in the centre of town, with a comfortable dining room and terrace (entrées €12, main courses €18, specialities €25, desserts €10).
Moulin de Petit Gascon
Lovely location on the outskirts of town near the sports stadium. Dine surrounded by plants and flowers overlooking a lock on the River Baïse. Local Gascon dishes with an emphasis on foie gras and duck, but enough alternatives to please all. Friendly, helpful service, menus from €18.
Francescas
Relais de la Hire
Situated in a small bastide village between Condom and Nérac, this restaurant has a large sunny terrace has a good reputation for its cuisine and scores well in the Gault Millau.
Nérac
One of the pleasures of Nérac is to dine alongside the River Baïse. Les Terraces de Petit Nérac offers three-course lunchtime menus at €11.00 as well as a large à la carte menu with main courses €15-17.
The Auberge de Pont Vieux and Le Vert Gallant also offer riverside dining.
Caussens
Au Vieux Pressoir
Hill-top setting with marvellous views over the valleys of the Gers, an old farmhouse serving traditional cuisine with the emphasis on duck.
Lectoure
Hôtel de Bastard
One of the top restaurants in the Gers renowned for its inventive cuisine with subtle flavours and tasteful combinations, offering seasonal menus €28, à la carte and a menu dégustation €60.
Restaurant du Chateau Lavardens
Lavardens
Restaurant du Château
Nestling beneath the imposing Château du Lavardens with a superb shady terrace which is an ideal place to while away a long lingering lunch. Good value menus and a number of more unusual dishes.
St Lary
Auberge des Marronniers
Lovely rural setting, good Gascon food, all inclusive (three-course menu with aperitif, wine, coffee and Armagnac start at €20). Auberge Maronnieres St Lary
Auberge Le Cousteau
Situated in the heart of the Gers countryside offers a traditional family cuisine using fresh local produce (like the magret and confit of duck grilled on a wood fire), great value all inclusive menus from €20, €27 and €37 including aperitif, wine, coffee and digestif.
Montaut-les-Créneaux
Le Papillon
A delightful 12th century castelnaud 10 km from Auch is home to Le Papillon. This well-appointed gastronomic restaurant offers a high level of service and an interesting range of the best Gascon cuisine and superb sea food. A good selection of menus start from 25€ and there is a varied wine list.
Auch
The Gers capital has a big selection of restaurants, brasseries and fast food places.
Le Jardin des Saveurs
This old coaching inn, Hotel de France sits opposite the cathedral. It has had a great reputation for its classic Gascon dishes but when we last visited it was getting rather shabby and was living on its laurels. Recently under new management we are hoping for a return to form.
Le Daroles
A stone's throw from the cathedral, this lively brasserie has a lot of charm and its four dining rooms and terrace serve set menus every day (10.55, 16 and 27,15 euros).
La Table d'Oste
Small friendly restaurant featuring Gascon dishes like pigs trotters stuffed with foie gras and the house speciality 'The Gers Hamburger' which is two magrets de canard filled with fried foie gras and finished with a secret sauce.
Lannepax
Les Caprices d'Antan
Attractive building on the corner of the main square in this little Bastide'. Recently changed hands and in our opinion even more enjoyable than before. A warm welcome and a good choice of well priced dishes.
Gondrin
Auberge du Lac
Small village restaurant, traditional cuisine created with local products. Lunch menu three courses, wine and coffee €15. Four regular menus and à la carte.
Restaurant Pardaillan
Logis de France hotel in the centre of town with a big terrace beside the lake – typical Gascon and family cuisine, set menus and à la carte
Eauze
La Vie en Rose
Housed in an ancient building in the heart of the town. The cuisine is a blend of regional products and the know-how of Jean-Michel Dufreche, with a good selection of Gascony wines. Set menus from 13 to 36 euros.
Montréal du Gers
Chateau BellevueChez Simone
Well-recommended restaurant in this delightful village. Foie gras, cèpes in season, duck – delicious .
Cazaubon
Chateau Bellevue – enjoy superb cuisine amongst the shabby chic surroundings of this 19th century château. Well-prepared market fresh dishes, sunny terrace overlooking the gardens. A great favourite of ours.
Barbatan-les-Thermes
La Bastide Gasconne – splendidly located in a 17th century manor house, a professional welcome and gastronomique cuisine.
Hotel Les Fleurs de Lees – English owner chef Mike Lee combines regional produce with flavours and spices from around the world.
Gastronomy
line
The Gers is a gourmand's delight, famous for its geese and ducks (over 4 million of them), the Côte de Gascon wines and, of course, Armagnac, France 's oldest and finest eau de vie. The restaurants in the area utilise the superb local produce that can be seen at the numerous markets and range from simple village restaurants, through hearty 'ferme auberges' to temples of fine dining.
Gers is renowned for its foie gras, magret (duck breast) and confit de canard, garbure and cassoulet and you will often find these dishes on the menus.
First a word about foie gras
Goose or duck?
Goose foie gras is said to have a "more delicate, elegant, aristocratic" taste. Duck foie gras has a more musky flavour. Duck are much easier to keep and therefore duck foie gras is the most readily available (and less expensive).
All around the countryside you will see signs offering foie gras direct from the producers and it is often cheaper to purchase it this way. Foie gras can be bought in several different forms:
Le Foie Gras cru (fresh foie gras)
Generally served warm and cut into thin slices and served with an acidulated or sweet sauce. Most restaurants serve it pan fried with apples or grapes and served with a sweet white wine such as the local Pacherenc Vic Bilh or Sauternes.
Mi-Cuit (Semi-cooked) Foie Gras
Usually sold in glass jars, terrines, or tins. It is a half-preserve that has been pasteurized. It can be kept from 3 weeks to 6 months depending on its preparation.
Preserved Foie Gras
Preserved foie gras is sterilised and can be stored for some years. It is the most traditional method and is served at the beginning of the meal, as an entrée or aperitif. However, there are different preserved foie gras and the regulations are very precise about what each may contain:
Entier (whole) foie gras: Made from one entire liver lobe
Foie gras: made of pieces of liver lobe agglomerated together
Bloc de Foie gras: Made of reconstituted foie gras
Though each of these is made from foie gras, they do not have the same quality and this is reflected in the price. Entier foie gras is the best and comes from very high quality foie gras. Parfaits are made by mixing 75% minimum of foie gras with chicken livers. Pâtés, médaillons, galantines, mousses de foie contain a minimum of 50% foie gras.
Other Gascon Specialities
Magret de Canard
Duck breasts are generally served grilled or fried with the skin and eaten quite pink (ask for ' à point' for medium rare or 'bien cuit' if you like it well done).
Confit de canard
Is duck which has been conserved in its own fat and is then cooked until the fat runs off and the skin goes crispy.
Cassoulet
White beans, bacon, ham, garlic, Toulouse sausages, duck confit, vegetables and more. Every one has their own secret ingredient but a long slow cooking is imperative for this stew which is served throughout the Midi Pyrénées.
Garbure
Is a long cooked vegetable and ham stew.
La Croustade
An apple tart from the Gers, known as 'Pastis' but has nothing to do with the aniseed flavoured drink. Rather the pastry is rolled out very thinly and alternate layers of pastry and the apples are soaked in Armagnac.
Vineyards of The Gers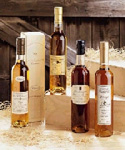 The history of vineyards in the Gers dates back to ancient times, even before the Gallo-Roman era. Vines cover most of the western part of the department. The combination of ground, climate and know-how all give the wines of Gascony a unique wealth and variety. Wine production is famous mainly for Armagnac, the king of eau de vie, which is thought to be one of the oldest spirits in the world, but there are the AOC regions of Madiran and Pacherenc and the VDQS of Saint Mont..
1. ARMAGNAC
Armagnac is divided into three production areas (totalling 15,000 hectares), the outline of which curiously resembles the form of a vine leaf.

•  Bas-Armagnac
•  Armagnac-Ténarèze
•  Haut-Armagnac
The wooded hills of Bas-Armagnac tend to produce a supple, fairly fast-maturing brandy. Ténarèze style is richer, aromatic and needs more time to develop. Haut-Armagnac only accounts for 2% of Armagnac production, but many consider it to have the finest nose and is the drink of the true connoisseur.
The vineyards of Armagnac concentrate on four grape varieties: Ugni Blanc, Colombard, Folle Blanche and the hybrid Baco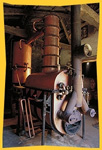 Armagnacs are classified according to their age. The young clear Armagnac eau de vie is often drunk between courses as 'Trou Gascon'. Older Armagnacs are classified as follows:
Trois Etoiles – Armagnacs at least two years of age.
VO et VSOP – Armagnacs of five years or more.
XO – Armagnacs of six years or more.
Hors d'Age – blended eaux de vie with at least 10 years in the barrel.
Le Millesime – the vintages corresponding to the year on the label (10 years minimum)
Armagnac is also used in the preparation of a number of fruit-based products (such as prunes in Armagnac) or for Gascon cocktails.
2. FLOC DE GASCOGNE
The result of blending fresh grape juice and young Armagnac, prepared according to an old 16th century peasant tradition. Available in red, white or rosy, it is excellent as an aperitif or as an accompaniment to melons, foie gras, desserts or fresh fruit. Today 1.3 million bottles are produced by 200 producers, exports mainly to Belgium and Canada.
3. THE MADIRAN VINEYARDS (A.O.C.)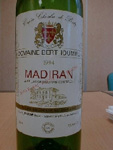 These vineyards are mainly in the south west Gers but extend over three departments. Madiran was used for a long time as a wine for mass, where it gained its renown thanks to the pilgrims who sampled it on the route to Santiago de Compostella. Receiving it's AOC in 1948, these dark reds are very rich in tannin, full-bodied and well constructed. Their uniqueness comes from the Tannat grape, which generally accounts for 60-80% of the blend. When young, Madiran gives aromas of red and black fruits (blackcurrants and raspberries), as it ages the tannins round out and develop a more spicy, coffee and vanilla aroma. The wine is ideal with the local duck and cassoulet cuisine. The white wines are called Pacherenc and are available either dry or sweet and are powerful and rich, exuding complex perfumes of fruits and flowers. The sweet Pacherenc Vic Bilh is an ideal companion to foie gras.
4. CÔTES SAINT-MONT (VDQS)
Bordering Madiran in the south west of the department right in the heart of Gascony, Saint Mont is a very old vineyard which went into decline in the 19th and early part of the 20th century. It was revived in 1958 to produce good quality wines and received the VDQS status in 1981; thanks to the efforts of the local wine growers it is now producing wines whose quality is unquestionable. Red, white or rosé-they are all fine wines thanks to the quality of the soil.
5. CÔTES DE GASCOGNE (Vin de Pays)
The 8th largest wine producing region in France and the largest white wine exporting area. Grape varieties grown include Colombard, Ugni Blanc, Cabernet Franc and for the red and rosé wines Tannat and Merlot. Over 90% of the wine produced is white and most is exported, the UK being a major consumer. There is an increasing number of very good value and widely acclaimed wines bearing the imprint of the local soil and the knowhow of the Gascon vine growers. The 56 independent wine producers of the region welcome visitors for tastings and there are five recommended wine routes to explore.
6 CÔTES DE CONDOMOIS (Vin de Pays)
The smallest AOC in France this wine-growing area stretches around the town of Condom. Grapes grown include Merlot and Cabernet Sauvignon to make a soft quaffable every day drinking red wine, Colombard and Ugni-Blanc for the refreshing whites and for blending to make the pleasant summer-drinking rosé.